REME Museum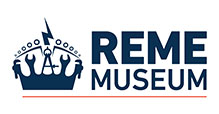 Wherever the British Army are, whatever the Unit is, there you will find REME
The REME Museum preserves the heritage of the Corps of the Royal Electrical and Mechanical Engineers. Formed in 1942 to meet the demands of World War Two, REME exists "to keep the punch in the Army's fist" – Montgomery of El-Alamein. They keep the army moving forward in all conditions.
That proud heritage is revealed in their museum. With seven galleries to explore and many interactives to keep you busy, there is lots to see and do.
Visit the Museum
The REME Museum tells the exciting story of the Corps of the Royal Electrical and Mechanical Engineers, from their foundation in 1942 to their work today. We provide a unique interactive experience for all ages. Learn about the history of the Corps and listen to the stories of those who have served. See large armoured recovery vehicles, medals, uniforms and weapons across eight modern galleries.
We suggest 2 hours to explore the galleries, but remember to leave time to visit Crown's Café for something to eat and drink.
Not only does the Museum have a large car park, but we are also easily accessible by public transport. All parts of the Museum are on ground level and there are no steps to climb.
There is no need to bring ID to visit the Museum or Crown's Café as the Museum lies outside the perimeter of MOD Lyneham.
If you need help planning your journey to the Museum please call our enquiries line on 01249 894869 or drop us an email at [email protected].
Museum Opening Times
Monday: Closed
Tuesday: 10.00 – 16.30
Wednesday: 10.00 – 16.30
Thursday: 10.00 – 16.30
Friday: 10.00 – 16.30
Saturday: 10.00 – 16.30
Sunday: 10.00 – 16.30
Last entry to the Museum is at 15.30.
Crown's Café
Crown's Café sits just outside the wire, near the main gate to MOD Lyneham. We welcome staff working on the base, visitors to the Museum and anyone else looking for a quick coffee or leisurely lunch.
In a relaxed atmosphere, you can enjoy breakfast rolls, homemade cakes, fresh barista coffees and a hot food menu that includes freshly made sandwiches, jacket potatoes and paninis as well as daily lunch specials. For our youngest visitors we have special lunch packs and tasty hot options. Our menu changes seasonally to take advantage of fresh local produce so make sure to come back regularly to taste our new creations.
We open from 9.30 until 16.00, every day of the week. Hot food is served between the hours of 9.30 and 14.30.
Security passes are not needed to visit the Café as we are on the public side of MOD Lyneham's security fences. Access to the Café is through the Museum's main entrance. You do not need to visit the Museum to enjoy the Café, although a visit is highly recommended.
In good weather, you can enjoy your food and drink outside, making use of our outdoor seating area.
We welcome visits from clubs and groups, but if there are large numbers, some advance notice will help us to ensure we can serve you quickly. Call us on 01249 894868 or email [email protected] to book ahead.
We can also provide catering for meetings or events held in the Museum's conference room or education suite. To book one of these spaces and discuss food options please call Mrs Claire Harris on 01249 894869 or email [email protected].